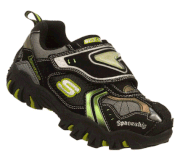 Skechers
is an American shoe company headquartered in Manhattan Beach, California, founded by CEO Robert Greenberg. After being ousted from the
LA Gear
board, Greenberg started Skechers in 1992 with his son as a distributor for
Doc Martens
; they launched their own shoe line the following year. Skechers' early products were utility-style boots and skate shoes; the company has since diversified to include thousands of athletic, casual and dress styles for men, women and children.
Skechers makes an effort to maintain a trendy and stylish brand image by using celebrity-driven advertising, followed by a host of animated mascots. Each character was designed to highlight a shoe's feature, so Super Z-Strap was design to market boy's shoes with elastic bands in place of regular laces (with Elastika being the girl's equivalent), and Twinkle Toes was design to market girl's shoes with glitter, sequence, and colorful art. A number of these mascots became the characters for the Zevo-3 cartoon.
Zevo-3 received criticism by advocacy and special-interests groups, who considers the show to be a half-hour long sneaker commercial, and a complaint was filed with the FCC by the Boston-based Campaign for a Commercial Free Childhood to prevent the show for being aired. Whatever this motion worked or not is hard to say, as the show currently plays only on the cable channel Nicktoons, and cable television is outside the authority of the FCC. Beyond the use of recognizable brand mascots, the show dose not endorse, nor advertise footwear in any form.